Find out about the KanbanBOX App for Android and iOS
Read barcodes and send reminders to suppliers from your smartphone
KanbanBOX is a web-based system, with no license or user restrictions: by creating a user account for each user, keep under control the update of the status of the kanban cards and distribute the responsibility on the parties involved.
You do not need to install any software: to access KanbanBOX it is sufficient to have a computer, mobile phone or tablet connected to the Internet. And with the KanbanBOX app for Android and iOS, you can read barcodes and send calls to suppliers even directly from your smartphone!
All the information in the palm of your hand. When working on the move in the warehouse and within the plant, it is important for technicians and operators to be able to operate exactly where the material is processed, eliminating the time they spend walking to and from their computers for queries.
The KanbanBOX App optimises ergonomics and activities, increasing warehouse productivity and keeping warehouse operations at the highest levels of performance.
Access data in KanbanBOX on a timely basis for more efficient decision making and achieve significant improvement in identifying and solving material flow management problems
Capture barcodes using industrial devices with built-in readers or directly with the mobile phone camera
Optimise ergonomics and mobile operational tasks of operators by exploiting wearable hand free scanner technologies! Use the KanbanBOX App combined with the latest generation hand free devices with native integration and achieve maximum efficiency
Communicate more efficiently for better team productivity and greater workflow compliance.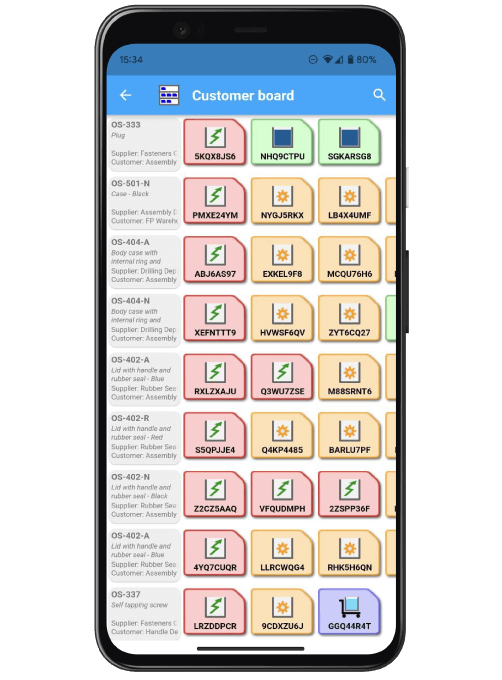 An App developed entirely and always up to date
Apps developed internally in Italy by our R&D department
Customisable, intuitive and dynamic interface
2,000 active users on Android and iOS
Always updated with the latest releases and functionalities
Wearable devices and scanners
that are hand free
Find out about all the latest generation e-wearable devices: wearable wireless barcode readers with BLE or RF technology. For ergonomic and efficient hands-free workflows: zero errors, maximum comfort, always connected everywhere.
Find out more