KanbanBOX,
the ekanban software
Enable materials management
in production, sales and procurement
with the electronic kanban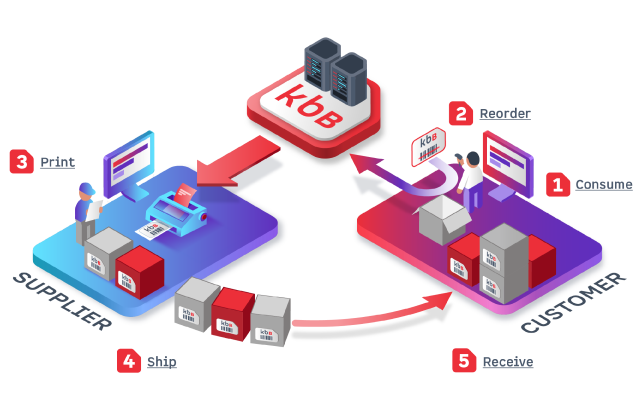 KanbanBOX is the web software that enables the management of materials with electronic kanbans (e-kanban). Solve the complexities of the production system and simplify the management of materials with KanbanBOX.
Size kanbans, print hard copy cards and manage them electronically as electronic kanbans, for an even more streamlined and waste-free flow of materials within the plant
Extend the kanban beyond company boundaries and network directly with your Suppliers and Customers to manage procurements and kanban sales together with them. Receive and provide excellent delivery service!
For those who are part of KanbanBOX

Do you need a tool to communicate in real time and have visibility on the supply chain? KanbanBOX is for companies that use kanbans to retrieve supplies from suppliers

Do you use kanbans to manage in-house production and want to maximise the effectiveness of the physical kanban? With KanbanBOX you monitor flows and simplify the updating of sizing

Exceed your customers' expectations. KanbanBOX is for suppliers who consider kanban a high added value service to enhance their product range.
What you can do with KanbanBOX
Start and expand
kanban management
Make kanban sizing and card printing simple. Thanks to KanbanBOX and the electronic management of the kanbans, you can keep the system updated as volumes and consumption mixes vary.Quickly and in real time!
Connect online
with suppliers and customers
KanbanBOX is on the net, KanbanBOX is a net!
Activate kanban relationships with your external suppliers and customers, as well as manage and size kanbans between departments within the company. Connect with them via KanbanBOX and start collaborating on the sizing of new kanbans, communicating the emptying of each individual container in real time.
Display the status
of the Supply chain
Keep track of all the kanbans in circulation within your supply chain with a single click. Accessing KanbanBOX is quick and easy: all you need is a device connected to the internet. Giving access to additional users is free: optimise corporate communication and make kanban information accessible to all the people who need it, when they need it!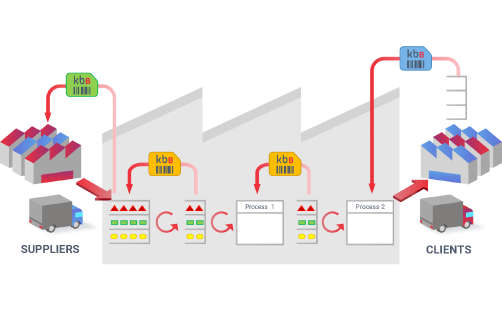 Access securely
wherever you are
We guarantee the security of your data and accessibility to the system through the most advanced protection systems and we let you always be operational, without interruptions.
The system is designed to recognise anomalous situations and attempts of incorrect use, in order to protect you and warn you in time in case of accidental errors in the management of kanbans.
How does the
the ekanban work?
The kanban is a system for transmitting information that ensures that each operating station produces only what is required by the most downstream station.
Go to
Why choose
the ekanban
Save up to 80% of time dedicated to execution thanks to the use of the most appropriate tools to size new kanbans and print cards.
Go to
Print the cards
using KanbanBOX
No more cards printed by Excel and information scattered in inaccessible files.
Experience the power of a unique and customisable tool!
Go to
The best electronic kanban software for large, medium and small companies