Integrate KanbanBOX with WMS,automated warehouses and automatic drive vehicles
Reduce storage costs and materials handling
Optimise the automation
of warehouse logistics from a lean standpoint
The optimisation of warehouse logistics is an essential activity for reducing the costs of internal transport in production, warehouse and distribution environments and for maintaining a company's high levels of efficiency and competitiveness.
Automatic warehouses and automatic guided vehicles are among the most technologically advanced solutions of storage systems, capable of solving above all the problems associated with the limited availability of space. However, from the point of view of the Lean improvement of business processes linked to internal logistics, they have contraindications in terms of maintenance and efficient management of the plant, flexibility of performance, as well as economic convenience.
Connect KanbanBOX to automatic warehouses (WMS) and automatic guided vehicles (AGV) and keep the management and maintenance costs of distribution and production logistics under control!
What KanbanBOX can do to
automate a warehouse
The benefits of integrating Automatic Warehouse (WMS) systems, Warehouse Management software and driverless transport systems (AGV) with KanbanBOX are a real visibility on the physical flows of materials circulating in the warehouse and a reduction in costs associated with transport.
Ease of access and stock management
Correct data interchange
Movement of goods to and from the warehouse in a lean and automatic way
Correct compilation of picking lists based on recorded consumption
Reduction of waste from a Lean perspective (delays or waits along the logistic flow, stocks of material and therefore of value trapped in the process, improvement of transport …)
Optimisation of production, distribution and picking processes
Enabling integration from a 4.0 perspective.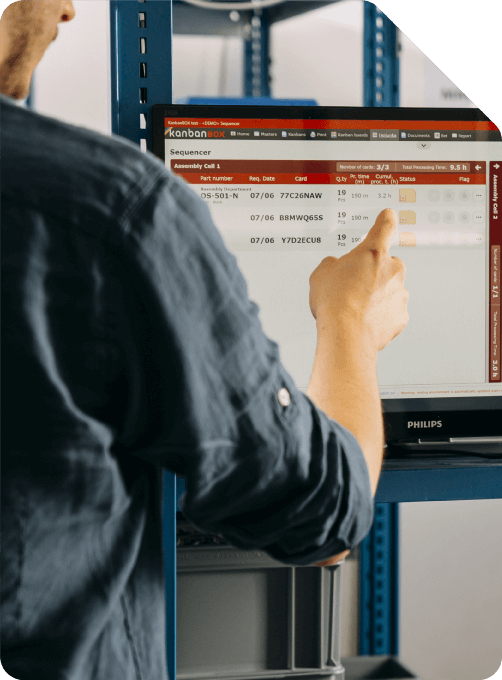 How intergation with
AGV and WMS systems works
By integrating the AGV and WMS systems present in the company with KanbanBOX, you can maximize the capabilities of the two different systems, optimising a large variety of processes in a Lean key. Thanks to the integration:
based on the recorded consumption, KanbanBOX pilots the need to replenish material by communicating the correct picking list to the WMS, without the need for manual intervention by the operator
on the basis of the correct picking list generated in KanbanBOX, the input is transmitted to the control software of the automatic means of transport (AGV) that deal with displacing the material in the production, storage or distribution centres.
Make Warehouse Management systems Lean and get the desired material to the right place, to the right operator (operator, Automated Guided Vehicle or robot), at the right time and in the right quantity.