Many projects
A great team of developers
Find out about our Research and Development team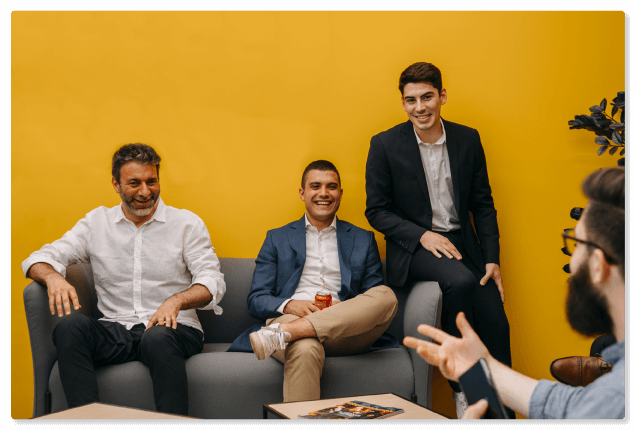 We are engineers. And we are also developers. We believe that technology is a support at the service of the competitive advantage of  businesses. A means to support people, solve problems, automate processes and drive the growth of companies.
This applies to our customers, but also to us. That's why we don't rely on software houses, but we have created an internal R&D team, dedicated and based in Italy. Investing in Research and Development activities is combined with our philosophy, inspired by Kaizen and aimed at the continuous improvement of processes and people.
In KanbanBOX we promote the team's research, development, creativity and freedom to experiment, sharing the brightest ideas and knowledge acquired on a daily basis. To fuel a climate of complicity and collaboration and stimulate the technological and organisational evolution of the company.
The R&D team is closely connected to the other company divisions: Information Technology (IT), Sales, Marketing and Communication, Consultancy and above all Customer Support, which offers an efficient and fast assistance service through a ticket system, which guarantees a response within 8 hours. working hours (but our average is 2 hours!).
Our primary goal is to ensure the efficiency, reliability and quality of our services. In order to provide a constantly evolving product, which meets the security and dynamism needs of our clients and keep up with the changes in the market!
Responsibility
and company ethics code
The company and communities in which we operate are affected by our conduct as employees and collaborators of KanbanBOX and benefit from it when all team members act with the utmost integrity, respecting applicable laws and the values ​​underlying corporate governance.
Our Code of Conduct is the way to develop a work environment that incorporates our ethical standards of conduct and is based on a system of Principles, Standards and Procedures that combine our business experience with legal requirements, research of the best practices and the comparison on ethics and compliance issues which can be summarised as follows:
transparency
honesty
equity and equality
confidentiality
diligence
impartiality
protection of people and the environment
The R&D team also has an internal code of conduct that ensures the safety of processes and the quality of the work, as well as the distribution of responsibilities and the degree of autonomy of the research and development groups.
Join our Research and Development team
In KanbanBOX you can find out about a future of infinite possibilities!
References
Some of our clients