KanbanBOX and RFID: increase the performance of your company
Design, development and integration of identification systems with RFID technology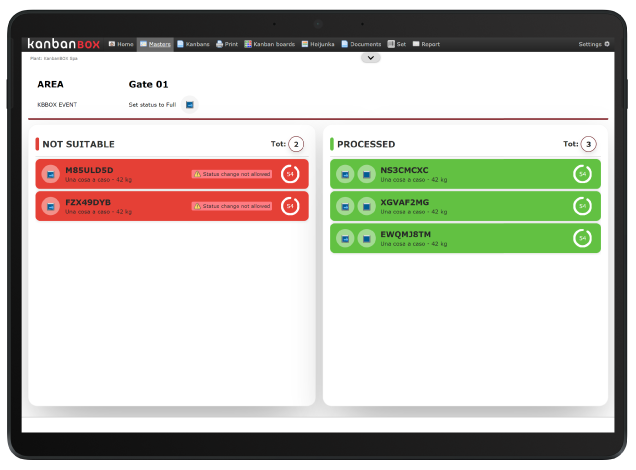 The RFID identification system opens up new perspectives in automation techniques, making the entire production and supply chain visible and automating the movement of goods and semi-finished products in warehouse departments, between different plants or even between companies that work continuously. Great visibility, speed, better control, high performance. Integration of the ekanban system with RFID technologies. Eliminate manual errors and downtime, accelerate processes and gain total control.
The evolution 4.0 of the electronic kanban
RFID reading systems are the most technologically advanced answer to application requests in the civil and industrial fields: in addition to the complete and real-time visibility of the flow of materials, the technology allows you to plan and control processes with precision and efficiency, arriving at the full automation of material flows.
KanbanBOX combines all the advantages of the electronic kanban with RFID technology for reading cards in radio frequency, which allows for the elimination of hardware reading devices. Thanks to the combined use of the two systems, electronic kanban + RFID, it is possible to maximise the Pull management of materials and the replenishment of the Supermarket, leading to a complete automation of the flow.
.
Higher performance in all work environments
An RFID system consists of a transceiver (Reader) and one or more Transponders capable of communicating with each other by means of a radio frequency modulated signal. An RFID area identifies an area in which, if a Card enters, it undergoes the same action. An RFID area can be a portal, a container or an area covered by one or more antennas, in turn managed by a Reader.
There are many fields of application for radio frequency identification technologies in the industrial, logistics or material handling fields, through the use of RFID transponders, RFID readers or RFID antennas:
automatic identification of materials
handling of goods and semi-finished products in the warehouse
control of production lines
automatic regulation of the flow of material within a production unit
identification of pallets or containers
Equipping an area with RFID antennas allows you to recognise all the appropriately carded objects that pass through it, also recognising the direction of crossing (inbound or outbound material).
The types of RFID: eliminate manual reading
The types of RFID reading points to automate scans and free operators from manual reading operations can be:
gates or passages for fixed or mobile stations (logistics trains) to read Cards from a few centimeters away up to 3 metres
boxes for picking up from the shelf and boxes for storing empty containers
antennas in different plants or companies that work continuously, to enable Intra and Inter-Company RFID.
Simplified integration with RFID Hardware
Thanks to the configuration of the RFID module in KanbanBOX and integration with RFID Hardware, when the material is identified with an RFID card, when it passes under the antennas, the system immediately recognises the content and direction of movement, updating, in real time, all the data relating to that lot in KanbanBOX. We provide you with:
simplified integration
control dashboard with the possibility of automatic reading or with manual confirmation
technical support.
Do you have any queries? Just ask!
All companies are different. If you want to know what is best for you, talk to us.